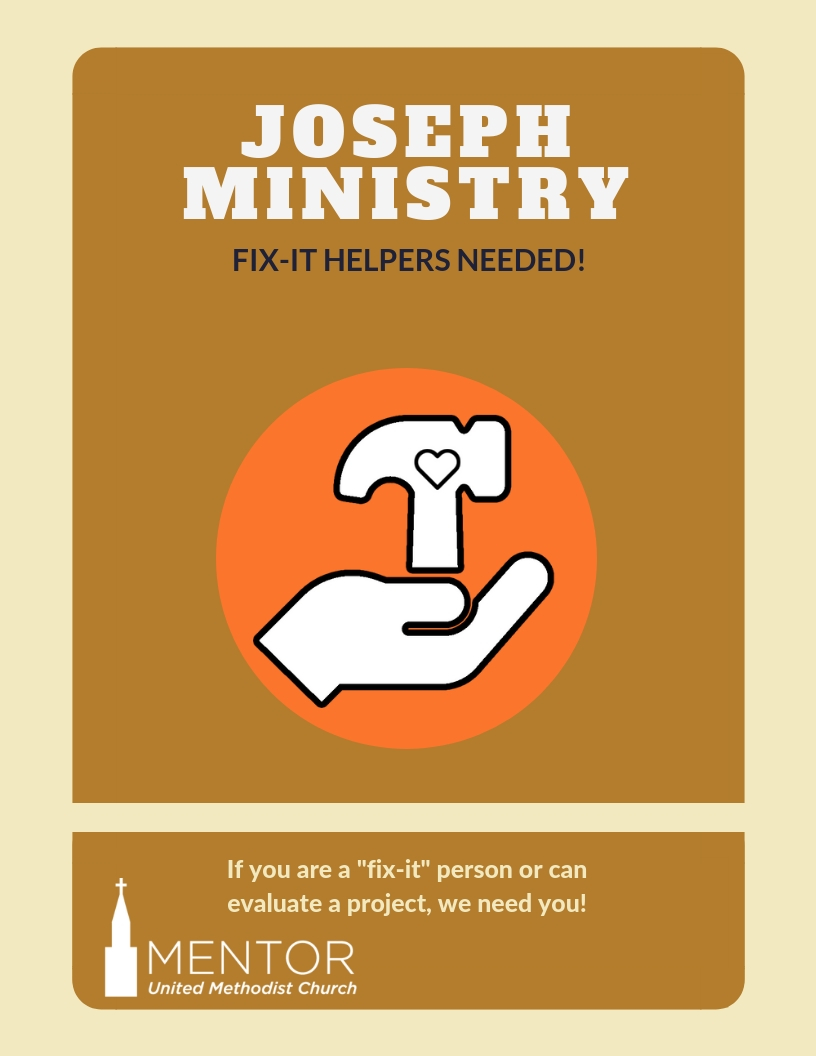 Providing year-round home repair assistance to local residents in need of a helping hand. Find out how you can get help or give help…
Do you have a small home repair project that is too small for contractors? Maybe you have a leaky faucet or a bad light switch or perhaps need a railing or a shower bar installed. We have a team of volunteers on call for your minor emergency fix-it project. The Joseph Ministry is ready to help. Contact the church office at 440-255-3496 and let them know what you need, and we may, with some exceptions, be able to help.
1 John 3:18 says, "Dear children, let us not love each other with words or tongue, but in action and truth."
The Joseph Ministry was created to help local people with small repair jobs. It consists of a small group of volunteers that assist our neighbors when skill level, age, illness, or misfortune prevents them from doing things around the house that need to be done.

The Joseph Ministry team has cleaned gutters, installed handrails and grab bars, done electrical repairs, painted, performed yard work, changed locks, and repaired a lot of plumbing and toilets.
Like all ministries, the Joseph Ministry only exists through volunteers. We need additional volunteers that are ready to roll up their sleeves and do some work. We also need people who can evaluate a job or show someone how to fix it themselves. If you have any home repair experience and would like to help, please contact us. The time commitment is whatever you have to give.

It's immensely rewarding to meet these wonderful people and see their gratification when we complete a job. It compels us to appreciate the gifts we've been blessed with, and the opportunity to share them with others; which is the foundation of the Joseph Ministry.
For more information, contact the Church Office at 255-3496.

How can YOU assist this Mission?
o Volunteer to work when you have the time (ANY amount is helpful)
o If you have any repair experience or can evaluate a project, we need your help
o Make a donation to the Joseph Ministry - gift cards to Lowes or Home Depot
o If you know of someone who needs assistance, contact us!