Local Missions
Hannah's Home Coin Collection
Click here to learn more about this month's Mission Focus.


Birthright Wishlist
Birthright is celebrating the joy of motherhood this month. Help us to give a special gift to the mothers in our community. Simply purchase an item from our Mother's Day Amazon Wish List. Help us make a mom feel special You may also donate on our website Birthrightlake.org or mail to us at 7237 Industrial Park Blvd., Mentor OH 44060
Birthright is a nonprofit 501c3
Donations are tax deductible
Wishlist here: https://a.co/aO7YT4U


Bubble Baskets for Woodlawn Homes
On Saturday, May 20th members of our church will be distributing
bubble baskets to the residents of Woodlawn Homes. Each household will
receive: a large container laundry detergent, a box of dryer sheets,
a bottle dish detergent, a bottle of general household cleaner and six
rolls of toilet paper. We did a Spring bubble basket distribution last
year at Woodlawn Homes and it was GREATLY appreciated.
The cost to sponsor a bubble basket is just $20. We will be collecting
sponsorships after services on Sunday, May 7th and Sunday May 14th in
the Communications Hub. This is an easy way to help one of 70 families
in need at Woodlawn Homes. The program is sponsored by the MUMC United
Women in Faith (formerly UMW) and Catalyst Ministry.
If you have questions or would like to help with the distribution
please contact Carol Ryan at (440-974-8014) or you can E-mail her at
Caszidkryan@gmail.com. Thank you for your help!

Food Ministry
Current Needs:
Cereal
Ravioli
Soup
Canned Fruit
Click here for an extended list of items.

More Than a Meal
More Than a Meal is a food ministry of MUMC that gives a sense of connection as well as a meal. Many of those who need food are also in need of seeing a smile and hearing a kind word. On the last Saturday of each month, we cook a meal and serve in our Fellowship Hall. You can help cook, clean up, or hand out meals while interacting with guests.
Often a group will get together to work the meal and enjoy fellowship while giving back to the community. The time commitment is four hours. The gift of your time and energy is much needed!
Please use this link to sign up online through SignUpGenius.


Disaster Relief
Donate to disaster relief by visiting UMCOR's website.


Caring Servants
Who are we? Caring Servants is an extension of the pastoral visitation ministry to the
homebound or chronically ill members of Mentor United Methodist Church. As such, we are not
a committee, and instead focus on the care needs of our faith community as servants of Christ.
What do we do? Caring Servants provide regular contact through cards, calls, visits, or "special
deliveries" on a monthly basis. By using a buddy system and focusing on 4-6 people we "share
the care" on a regular basis in order to keep people connected to their church.
What we are asking? Maybe you have a heart for the needs of others and are able to listen to
people who are increasingly isolated. All we ask is that you prayerfully consider being a part of
our caring team of Jesus followers. Contact Pastor Barb or Bev Lee: bholzhauser@mentorumc.org or call the church office.


Hope Chest
Hope Chest is in need of bath towels. Donations can be dropped off in the Community Center!


Find out about Lake County's only homeless shelter, their new Families Moving Forward program, and how you can help support this important ministry. Read More
The Homeless shelter of Lake County, located at 25 Freedom Rd. Painesville, relies on volunteers to provide a meal each night for 40 individuals and drop it off at the shelter by 6:45 p.m. Mentor UMC coordinated the first Wednesday of each month and you can help! Contact the Church Office at 440-255-3496 to sign up to help.


Click here to view details about February's Mission Moment for Project Hope.

Joseph Ministry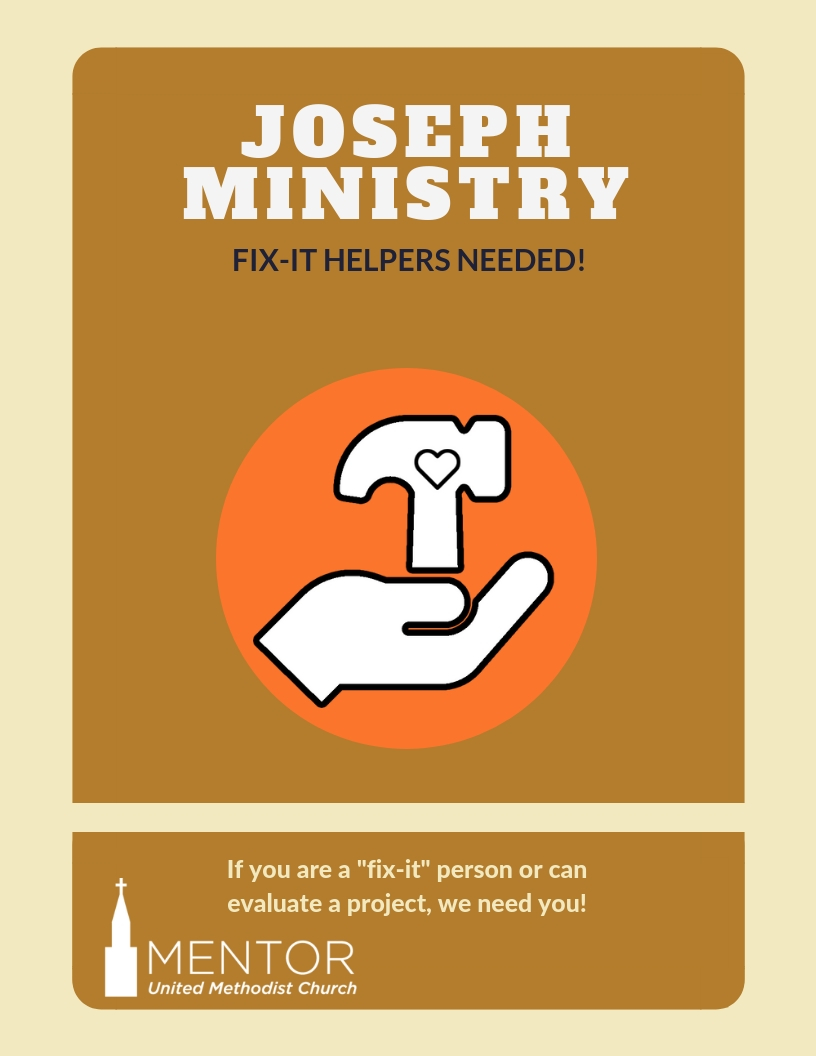 The Joseph Ministry was created to help local people with small repair jobs. It consists of a small group of volunteers that assist our neighbors when skill level, age, illness, or misfortune prevents them from doing things around the house that need to be done.
Click here to learn more
Ohio Guidestone
Royal Family Kids Camp
Royal Family KIDS is the nation's leading network of camps and mentor clubs for children of abuse, abandonment and neglect. If you are 16 or older, you can help! Training dates for 2023 is Saturday April 29 from 8-4 at the camp. This year, camp is in June. You can apply to be a volunteer full time or part time by visiting their site. Click here to check it out. Thank you to Abbie Akucewich for sharing an RFK "Story of the One" with us, which can be viewed here.
Woodlawn Homes
Thank you so much as we continue to establish a relationship with the
families of Woodlawn Homes and Catalyst Ministry.
Youth Service Project
Click here to learn more about this area of Youth Ministry.
Hospitality
Sign up here to be an Ambassador or Section Leader on Sunday mornings. To learn more about what these are, click here.