Welcome to Adult Discipleship!
As we know, grow and show Christ's love for the world, Mentor UMC offers you the chance go deeper in your walk with Christ and connect with others on the journey. Everyone is on a path. At Mentor UMC we see God at work in every stage of your path and want to help you get on a deeper path of knowing God and others.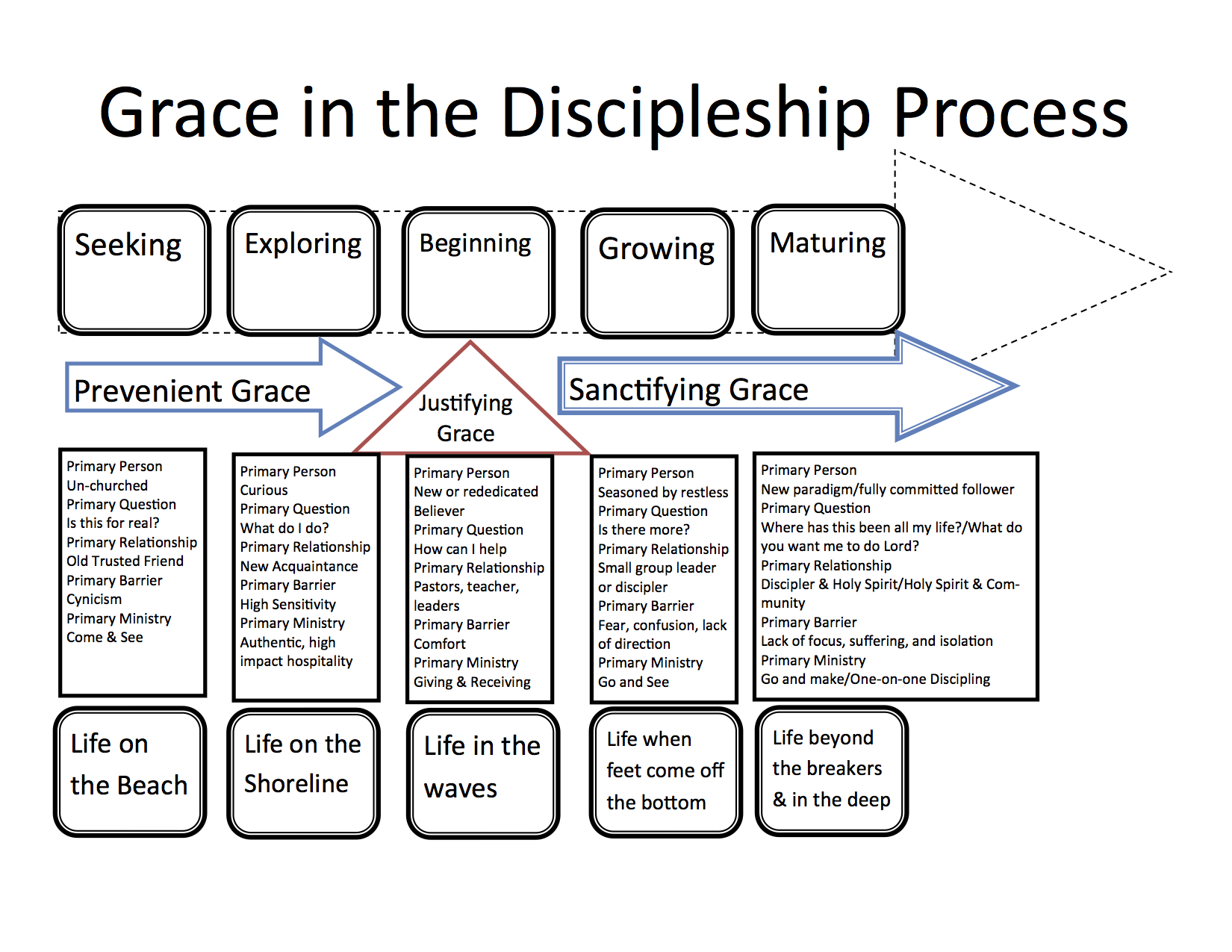 Types of Groups available: Short-term Groups: These groups range from 6-10 weeks in length. They typically focus
on a particular book, theme, life stage, need, or idea. The group is facilitated by a small
group leader and hosted at the church, private home, or restaurant. Groups start
throughout the year and are updated regularly on the church website. September and
January are great times to get involved in a short-term group.
Disciple Bible Study Groups: These groups offer a 32 week in-depth study and
discussion of the bible. There are five different courses you can choose from, it is
recommended to start with "Disciple 1 (the red book)" which is an overview of the Old
and New Testaments. Functioning much like a college class there is weekly reading and
preparation required as well as a facilitator. Groups start the week after Labor Day,
conclude before Memorial Day, and do include holiday breaks.


Journey Groups
Studying Scripture, prayer, and personal accountability. These are things we all strive for in our Christian walk, but how much better if we have support?
Journey Groups are small groups that meet for this purpose, to help lead all onto a path of Christ-centered discipleship. In this environment, members experience a deepening of relationships with each other and a chance to explore topics more thoroughly.
Small groups strengthen the church and your spiritual life. Mentor UMC has a goal of more than 300 small group members this fall to further build our church community and provide you with this vital tool. Groups choose different topics based on things like the current worship series or a published study.
Groups will start up the week of September 10th. There are a few ways to sign up:
1. Fill out the form in the bulletin or newsletter and place it in the offering basket
2. Email your answers to the form questions to Pastor Quincy at qwheeler@mentorumc.org
3. Visit the Information Center by the Office
4. Visit the Welcome Center in the Gallery – Journey Group representatives will be there August 20th, August 27th, September 3rd and September 10th
5. Fill out the Google Form below
We will match you with a group that best meets your needs. We understand needs like childcare and your busy schedule and will do all we can to get you connected.

Right Now Media helps people trade in the pursuit of the American Dream for a world that desperately needs Christ. The utimate goal at RightNow Ministries is to encourage millions of people to love for Christ in the world. The best way for RightNow to unleash millions of Christians is to serve churches who can disciple and mobilize "the people of the church" to live like Jesus in their homes, neighborhoods, at work and around the world. Mentor UMC offers you access to thousands of online and streaming videos that will help and others you gather with grow on the path of following Christ.
Become a member with "The Basics"
The Basics will be offered at various times throughout the year. Click HERE to email Rev. Beverly Wrobel for more information
GriefShare Offering:
GRIEFSHARE is a Grief Recovery Support Group.
It's real help for deep hurt for those on the journey from mourning to joy.
The next GriefShare session begins on January 31 and will meet on Wednesdays for 13 weeks from 1:00-3:00 PM through April 25.. Cost: $20.00 (for book)
Mentor United Methodist Church
8600 Mentor Avenue
Mentor OH 44060
(440) 255-3496 x14

Facilitators: Rev. Beverly Wrobel LPC and Janet Siekmann Click HERE to email Rev. Bev about registration.
Please register by calling or e-mailing Pastor Bev Wrobel. For more information visit the GRIEFSHARE website at www.griefshare.org

What is "The Path?" The goal of The Path is equip you to know God, love God, and serve God. The Path of discipleship will help you grow into a fully-devoted follower of Jesus Christ. Like every path it is different for everyone, it is a journey, a personal process of discovery, and a time to connect with the community… Read More
Standing for "United Methodist Women," the UMW coordinates church-wide educational opportunities the highlight how each of us can put our faith into action to share Christ's love with the world as well as small group gatherings specifically for women.