Local Missions

At this time, MUMC is not collecting for Hope Chest. Monetary donations allow us to continue our mission to purchase new sneakers, socks, and underwear for school children.
Donations may be mailed or brought to Hope Chest, 1 Victoria Place, Suite 321, Painesville, OH 44077 Monday-Thursday from 9:00 am-1:00 pm, or left inside our brown bin located on the building's dock off of South St. Clair Street. Visit our website at www.hopechest.yolasite.com or email us at hopechest.painesville@gmail.com with questions. Hope to see you soon, we will be around for the next 50 years, helping folks in Lake County, thanks to you. Hope Chest Website
Find out about Lake County's only homeless shelter, their new Families Moving Forward program, and how you can help support this important ministry. Read More
The Homeless shelter of Lake County, located at 25 Freedom Rd. Painesville, relies on volunteers to provide a meal each night for 40 individuals and drop it off at the shelter by 6:45 p.m. Mentor UMC coordinated the first Wednesday of each month and you can help! Contact the Church Office at 440-255-3496 to sign up to help.
Joseph Ministry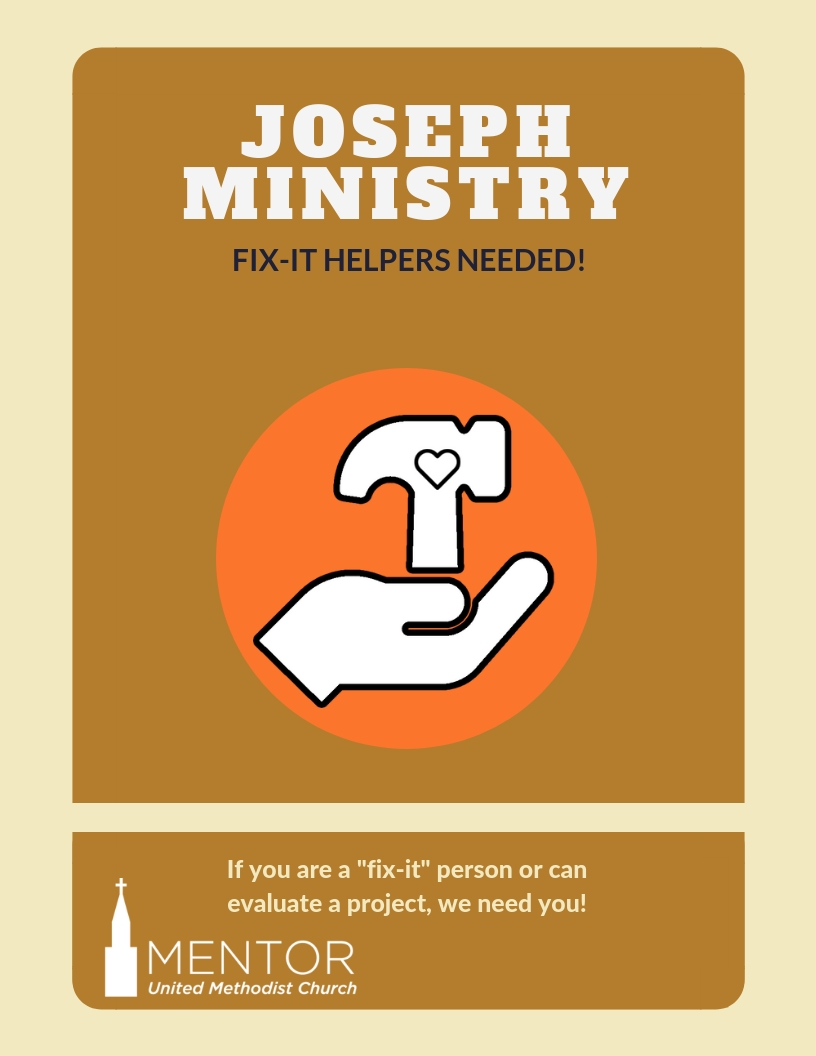 The Joseph Ministry was created to help local people with small repair jobs. It consists of a small group of volunteers that assist our neighbors when skill level, age, illness, or misfortune prevents them from doing things around the house that need to be done.
Click here to learn more
More Than a Meal
More Than a Meal is a food ministry of MUMC that gives a sense of connection as well as a meal. Many of those who need food are also in need of seeing a smile and hearing a kind word. On the last Saturday of each month, we cook a meal, pack individual servings, and offer drive-thru pick-up for anyone who would like a meal. You can help cook, pack meals, clean up, or hand out meals while interacting with guests.
Often a group will get together to work the meal and enjoy fellowship while giving back to the community. The time commitment is four hours. The gift of your time and energy is much needed!
Please use this link to sign up online through SignUpGenius. The link can also be found on our website and app.
Ohio Guidestone
Royal Family Kids Camp
Royal Family KIDS is the nation's leading network of camps and mentor clubs for children of abuse, abandonment and neglect. Click here to check out their website.
Woodlawn Homes